One of the most important things that any artist must do in order to have a recognizable style, an ICONIC look, is to build a language of their own; visual components that are constantly showing up in various pieces of the art, as unique to that specific artist. These become the "signature" that maybe the most vital thing any artist must have in order to maintain longevity and a strong base of avid collectors. As you study my work on this site, notice these iconic forms that build my brand image over and over.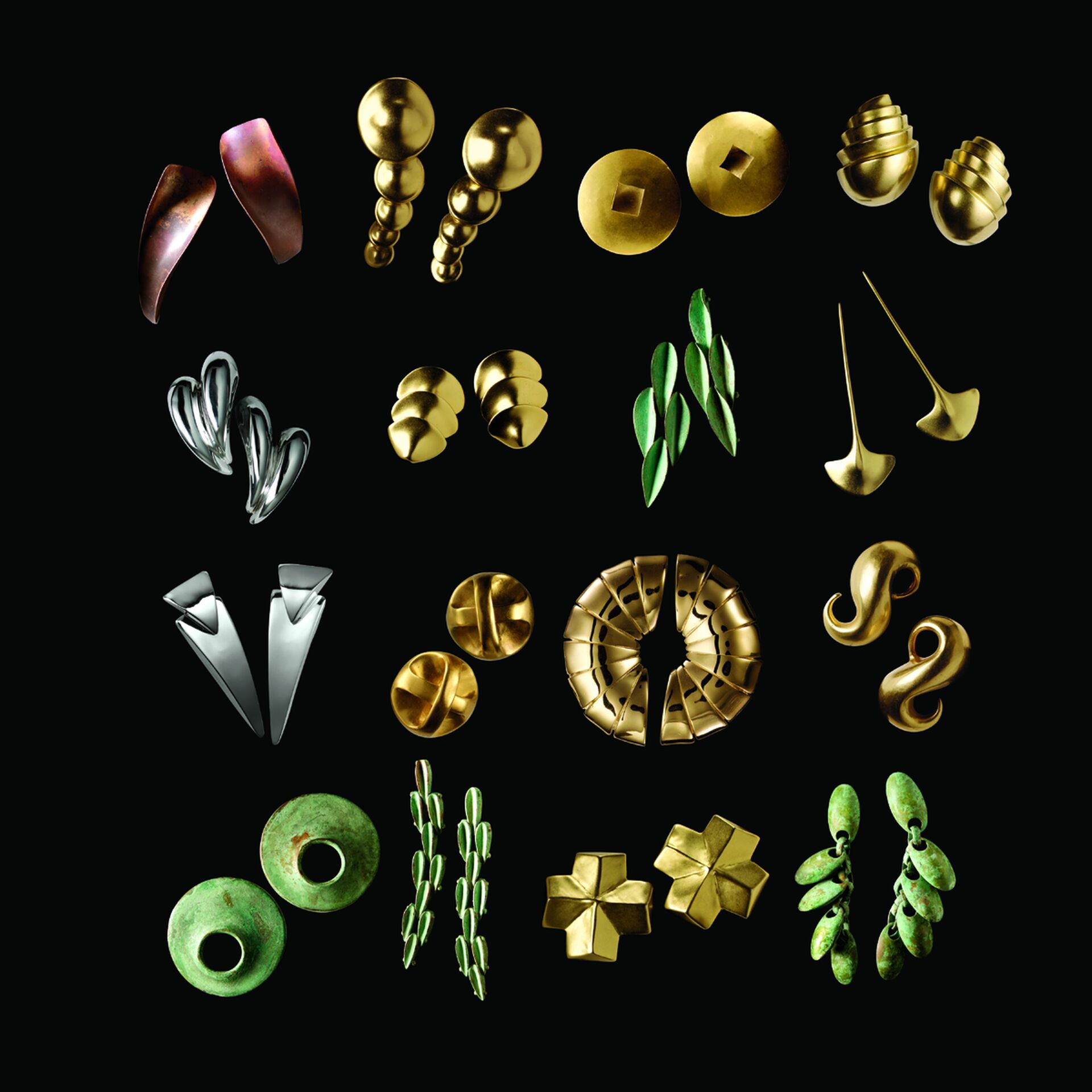 In 1974 I developed forms that became the "driver" of my brand image: the Knuckle ring and the Alpha cuff. These soft, sensual shapes became my iconic, mythical image and when my name is mentioned, these forms come to mind immediately.
My mission has always been to make clean, edited design that is pure, sensual alive with organic spirit and a celebration of life paying loving tribute to the beauty of animal anatomy and natures magic. Above all my mission has been to infuse every thing that I create with my soul, my DNA, or what we call a signature style, or hand.
I have devoted my entire career to the promotion and sales of art jewelry. I am an avid creator of bold exciting fashion jewelry that has changed the way people have looked at how it is merchandized and new ways of wearing it. I created my gallery ARTWEAR in 1977 and for 20 years created a powerful influence on the fashion industry. Having led a full career in New York City, collaborating with the leading fashion designers such as Donna Karan, Calvin Klein, Michael Kors, Karl Lagerfeld, Ann Klein, and Geoffrey Beene, I have been awarded the 1981 Coty award and three CFDA awards including Lifetime Achievement. My work is now being collected like fine art, yet so many of the pieces I am showing on this site are very affordable and wearable. My design aesthetic has flowed from the wearable work to leather goods, tabletop accessories, sculptures and you name it.
​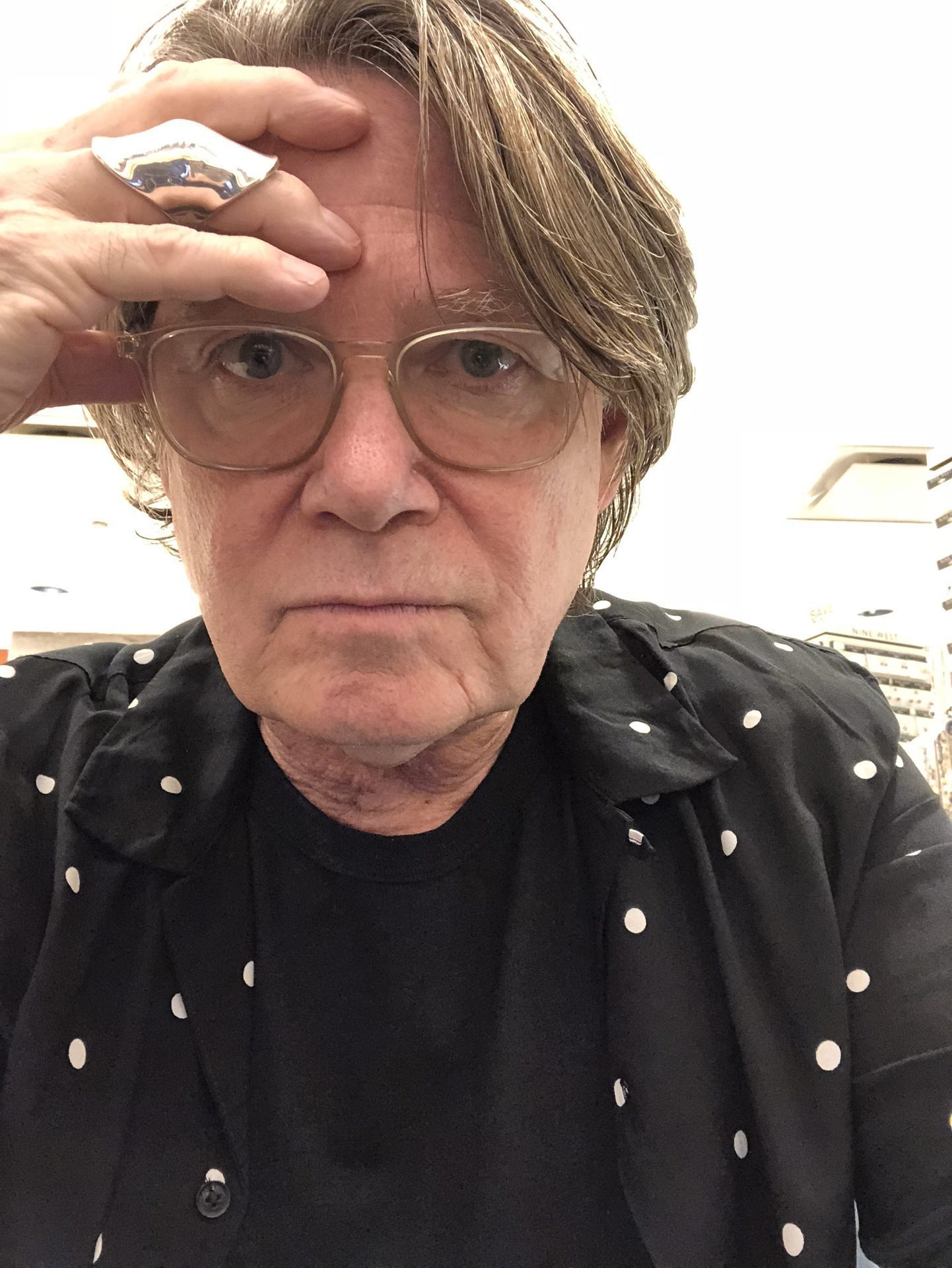 The Reason For This Website
After 52 years of running my jewelry and design company, the time has come for me to need a personal website. I need a landing place where I can show and sell my collected archives. There needs to be a place where collectors and students and friends can learn about my work, my career and my design history. No longer do I have a retail store nor do I ever do personal appearances or any TV work any more. This is why I need a virtual gallery and museum, to share myself with you.
This is indeed a Museum of Robert Lee Morris and of ARTWEAR, the famed jewelry gallery I founded in 1977. A library of images and stories, eye candy jewelry and gallery displays. Like any museum, it has a shop. This shop is filled with my extensive archive collection. This is the work  I made and decided to keep, and the work I bought from the artists in the gallery.
This is not just a place to buy things, but a place to learn, and re-connect with the time of life we baby boomers shared in the 60's 70's 80's, the high times.Here are some of the remaining one of a kind prototypes I made by hand in the last 5 decades, as well as a limited body of old wholesale sample pieces, all for sale. 
Below is a recent profile story on me in UK Vanity Fair on Jewelry, editor Annabel Davison, and writer Simone Brewster honored me with a short but powerfully written summary of a career that keeps on being shaped as I build this website.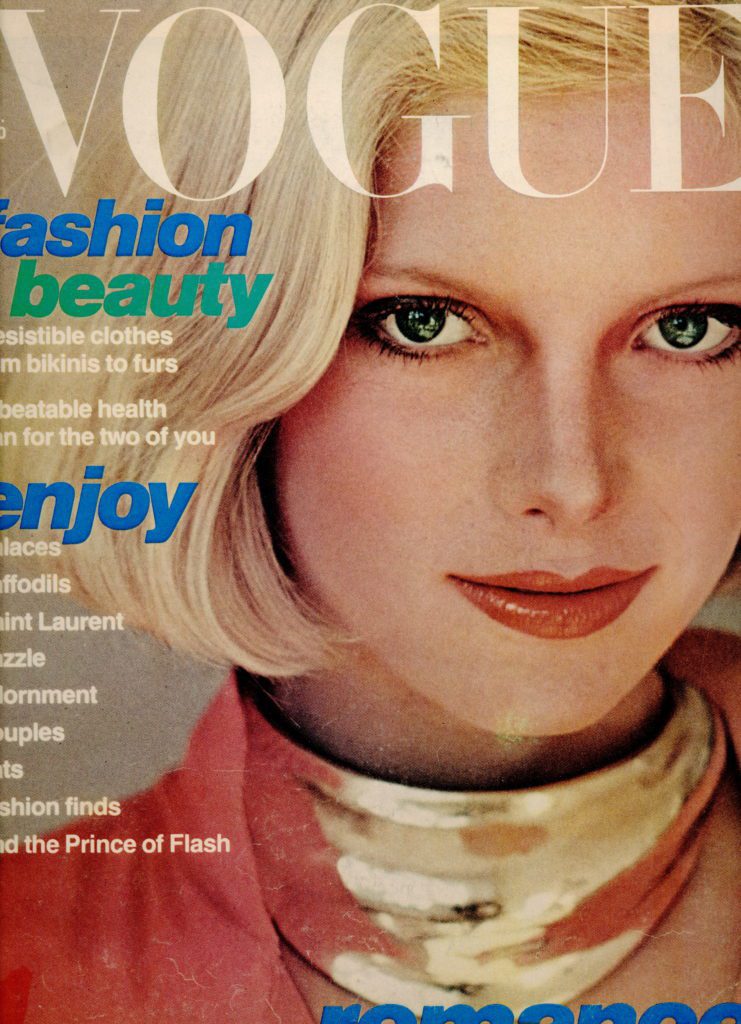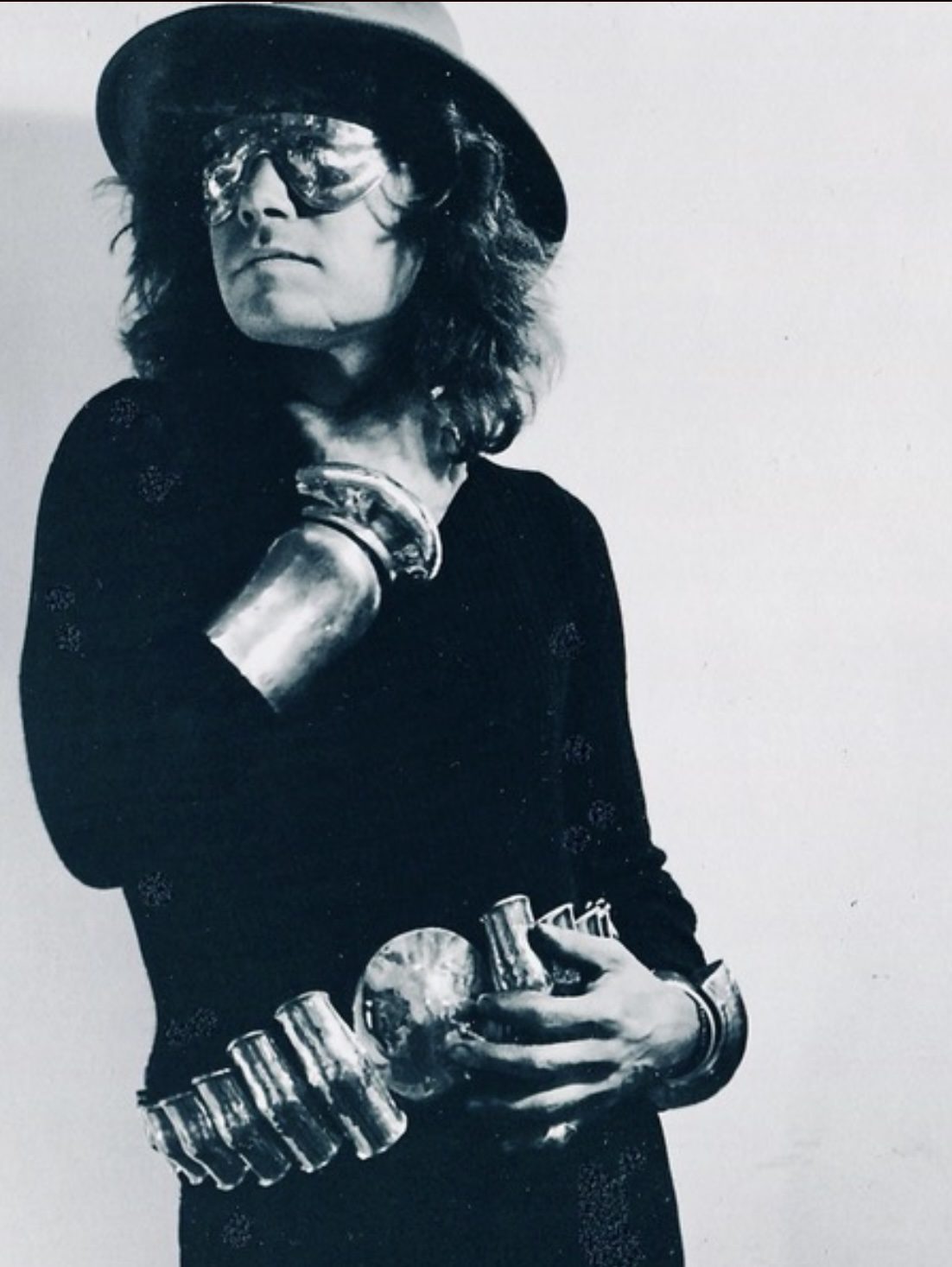 In 1969, I TAUGHT MYSELF how to make jewelry while living on a hippy craft farm in the cornfields of Wisconsin. Soon after, my work was discovered by a major art dealer and collector, Joan Sonnabend. Joan owned the Plaza hotel (Sonesta) and opened her famous SCULPTURE TO WEAR gallery showing jewelry by  blue chip artists (Picasso, Arp, Braque, Lichtenstein, Calder, Cesar, Fontana, Pomodoro, Niki de St. Phalle, Lowell Nesbitt, Robert Indiana, Cesar, and so many more, all famous for their signature art..
IN 1973, JOAN GAVE ME A ONE MAN SHOW and my career took off like a rocket. Fashion editors began to use my early work in their shoots and my look was bold and fresh and dramatic and just what the media loved put on their pages. Bubble cuffs and collars, were used all over at once.
 IN 1974, I HAD MOVED FROM RURAL NEW HAMPSHIRE TO SOHO NYC. I fell in with the Downtown crowd right away. Lots of dancing, clubbing, lots of new friends, and I became so energized. Hanging  with artists like Roy Lichtenstein, Bob Stanley, Richard, Artschwager, Lowell Nesbitt, and the energy of lower Manhattan  pushed me into wild self expressions, as I explored who I was and what I wanted to make of myself.
SUDDENLY MADLY creating new bold and hollow shapes that created great volume I began to make modern armor. Like the filmmaker I had been, I began to visualize a cinematic world with tall strong Amazonian women wearing post apocalyptic tech gear with a tribal style. Past and Future, I began to make the "props" for my imaginary actors. These were like Sci Fi blends, fun and dramatic. And again, the editors from newspapers, magazines and stylists began to react wildly to my extreme pieces.
Soon the sales of my work alone was more than all the other artists in the gallery put together. The December 1976 VOGUE featured my brass bubble collar on its cover!
 pavements looking for alternative venues for showing and selling my work.I went to every prestigious retail store and met with their buyers. I visited each Soho gallery that had power and was told to  speak with the fashion editors.
Not one retail establishment could figure out where or how my work would fit into their stores or galleries.
What I was making was too new, too out-there- ahead of its time…I WAS FORCED to open my own place. I represented a yet to be recognized category of jewelry they called BRIDGE or DESIGNER jewelry; in between fine jewelry and costume. No stores had anything like what I and my peers were now creating.
So by the fall of that year, 1977, I opened ARTWEAR, and began to represent not only my work but the jewelry of over 50 great American jewelry designers.
INSTANTANEOUSLY the PUBLICITY for the gallery exploded all over the media, fashion magazines, newspapers, TV news and the word of mouth spread like wildfire. Soon all the major fashion designers flocked to Artwear and started to ask for collaborations on their runway shows.
The wave of new EDITORIAL COVERAGE propelled the gallery, (and my work especially) into the mainstream media, and from then on, my work was cut out for me. For many, I was a father figure of this exciting new and prosperous category of jewelry! 
For me, I was answering my calling.